Welcome to The GoatMentor website! We have a large range of services and tools to help every goat-keeper whether you are new to goats or have been raising them for years. Here are a few of the features offered:
Goat Record Keeping Tools
Fun and How-to videos
Step-by-step articles on everything from bottle-feeding to increasing milk with herbs
Phone consultations (for 2* and 3*Members)
Discounts on hands-on classes
Information & help to encourage the natural raising of goats
And lots more...
We offer 4 levels of membership to be able to provide the best benefit for your needs at minimal cost.
FREE Level is the basic package that all other levels are built off of. This includes a monthly newsletter and other helpful and fun information.
Level 1*M is geared towards those who are just starting in goats. Perfect for the 4-Her, pet goat owner, or anyone in their first year or two of goats.
Level 2*M is geared towards those who plan to breed their goats, milk them and raise a few kids, but do not really plan on breeding extensively.
Level 3*M is for the serious goat breeder. If you want to raise the best goats and become known as a reputable breeder, this level is for you. All the tools you need and plenty of articles and tutorials to help your herd flourish.
The GoatMentor Services

FREE

Level

1*M

Level

2*M

Level

3*M

Monthly E-Newsletter
includes tips & tricks, links to articles, videos & how-tos, goat jokes…
20+ Goat keeping articles
Goat Milk Recipes

The Natural Goat Guide
Your online resource for managing goats naturally

Comprehensive, step-by-step goat care from birth through weaning, breeding, pregnancy, kidding, milking & retirement.

-

Additional Guidance with Each Package:

Selecting Your New Goats

-

Safe Transportation of Kids

-

Bottle-feeding a Goat Kid

-
Green Gables Grain Recipe
-
Choosing a Good Hay
-
Milking Procedures
-
-

When is My Doe Ready to

Breed?
-
-

Recognizing the Signs of Labor

-
-

Giving a Birthing Hair Cut

-
-

Tail Ligaments - A Sign of Labor (Free Video)

-
-
I

ncreasing Milk Production with Herbs

-
-
-

Solving Udder Issues (mastitis, cowpox, injuries...)

-
-
-

What to do With All That MILK!

-
-
-
Getting a Better Buckling/Doeling Ratio
-
-
-
Keeping Water Thawed Without Electricity
-
-
-
Goat keeping spreadsheets with built in calculations
Individual goat records sheet
(with due date calculator)
-
Milk record sheets
(with totals, averages and peaks calculated)
-
Cocci Prevention Sheet
(natural method & calculates dosage for Di-Methox 12.5%)
-
Breeding Season Planning
(calculates generations and percentages for Mini dairy goats)
-
-
Pedigree template - just add names!
-
-
Kidding records sheet
(calculates average weight, tattoo numbers, buck/doe ratio & more)
-
-
Receipt template for sold goats
-
-
-
Price calculating spreadsheet - make pricing your goats EASY
-
-
-
Goat breeding evaluation & breeding choice tool
-
-
-
Access to other GoatMentor articles
How to Get Great Tasting Milk
How to Prevent Mastitis
How to Prepare a Goat Kidding Kit
-
How to Market Your Goats

- coming soon

-
-
How to Prepare Your Goat for a Show

- coming soon

-
-
And LOTS more…
-
GoatMentor videos
Funny Videos (Doe's Secret Code of Honor, etc.)
FREE
FREE
FREE
FREE
Training Videos (disbudding, hoof trimming, etc.)
FREE
FREE
FREE
FREE
Marketing advice
-
-
-
Discount on hands-on classes
-
-
10%
25%
Phone consultations per year

-

-

2 hrs

($50 value)

4 hrs

($100 value)

FREE

$25/yr

$75/yr

$150/yr
The GoatMentor is always looking to improve our services and we frequently add more articles, videos and tools. Each update will be announced in The GoatMentor e-newsletter.
The GoatMentor Credentials
We have been raising dairy goats since 1997. Miniature dairy goats have been our focus although the standard sized goats have had a place in our herd as well. We have always strived to manage our goats as naturally as possible and have done lots of research into holistic, natural goat care. We have been mentoring the buyers of our goats for many years and have finally decided to let this be available to more people so others can benefit too!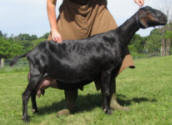 Green Gables MiniNubians (the GoatMentor's herd) has become well known as one of the best MiniNubian farms in the world. Everyone who visits comments on the health and wonderful personalities of the animals.
Sign up today to be mentored on how to raise your own goats to the same quality!