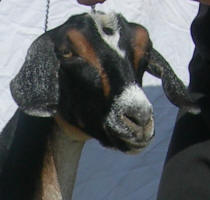 Country Dreams Rosebud 1*P

2nd generation

Sire: Morning-Glow Flax (3rd gen.)
ss: Carey's Red Hot Papa (2nd)
sd: Morning-Glow Brown Sugar (3rd)
Dam: Careys Sweet Pea (1st gen.)
ds: Carey's I Wanna Be A Millionaire (N)
dd: Buttin' Heads Mont Olive (ND)

Click here for extended pedigree

DOB: 3/17/04

Height: 25" (at 6 yrs)

ROSEBUD is litter mate sister to a buck we used extensively in our herd, Country Dreams Charlie Brown. We were so happy with Charlie and his kids that we went back and bought two full sisters and his dam's sister (see Arthur). Rosebud is a very dark buckskin with frosted ears and muzzle and a few white markings. Her ears are pendulous and her nose is roman. She has a very smooth, level topline with an extremely flat rump. She has great body capacity and very strong feet and legs. Rosebud is a good, steady milker giving 5-6 lbs of milk per day. Her udder is very well attached with a high, wide rear udder and super tight attachments all around. Her teats are well delineated and well placed. Rosebud's kids are always gorgeous with wonderful conformation and lovely personalities. Most of her sons have gone to breeding homes and we have retained 2 of her daughters for our herd. See her beautiful daughter Trillium who took GCH in the 2012 Summer V-Show, and Laurie.

Rosebud's daughter, Trillium

Virtual Show Record

2010: 2nd place 5-6 yr old in both rings of MDGA's Summer V-show - right behind Molly who took GCH and RsCH

2009: 5th place aged doe MDGA Fall V-show

2009: Reserve Champion MiniNubian Sr. Doe - Ring 1 MDGA Summer V-show

2009: 3rd place aged doe - Ring 2 MDGA Summer V-show

Rosebud's 5th freshening udder

MDGA Milk Records:

Year

Age at

Freshening

(yr-mo)

Days in

Test

Total Milk

in test

Ave

BF%

Total Butterfat

in test

Ave Protein%

Total Protein

in test

Comments
2012
8-00
One day test
4.4#
4.4%
-
2.74%
-
50 total points
2011
7-00
305
935.7
5.08%
47.49
4.00%
37.41
2010
6-00
265
773.9
3.63%
30.80
3.12%
24.31
2009
5-00
253
1141.8
5.08%
50.43
3.45%
28.59
Earned Milk Star!

Click the pictures to see Rosebud's BEAUTIFUL kids

Rosebud's parents

See full pedigree here
Pictures of Rosebud. She is not very photogenic - she ALWAYS looks so much better in person!
Rosebud - first freshening: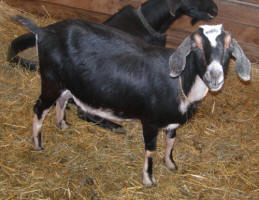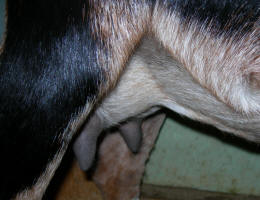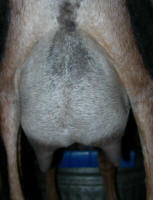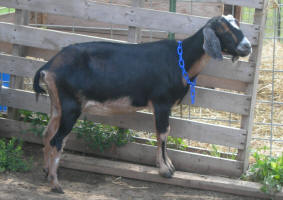 Rosebud as a 2nd freshener: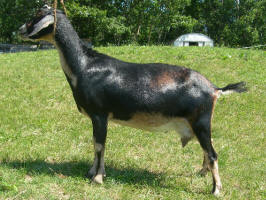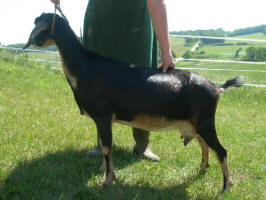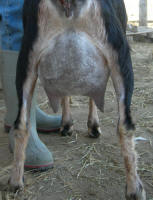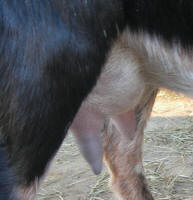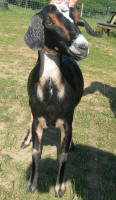 Rosebud at 5 years old. these are her v-show pictures: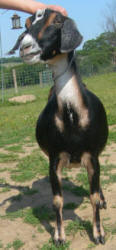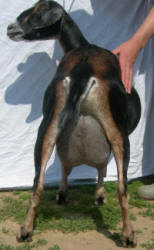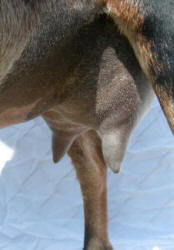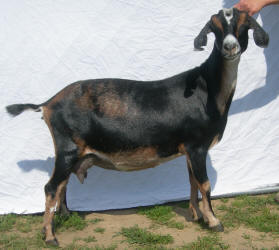 Soakin' up the sun... (photo taken shortly after milking)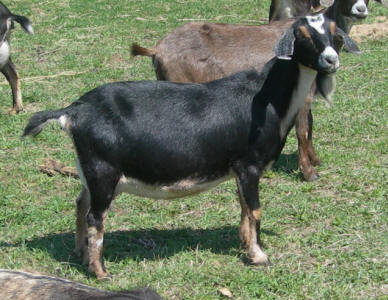 Fall '09 v-show pictures 7 months fresh, unclipped, and no helper to set her up...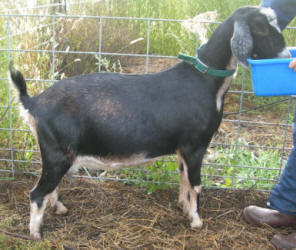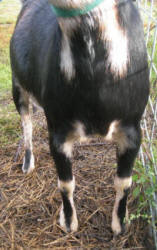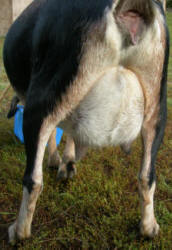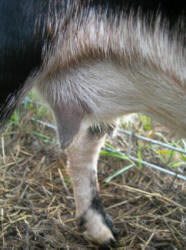 Rosebud 1 day after kidding with triplet bucklings. These pictures show the nice globe shape to her udder that the other pictures don't allow you to see. It is still very snugly attached and well shaped after 5 lactations: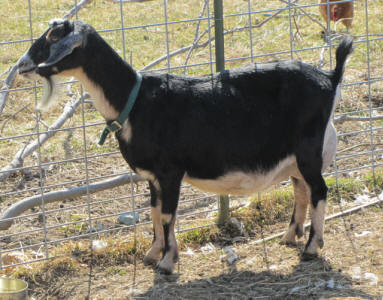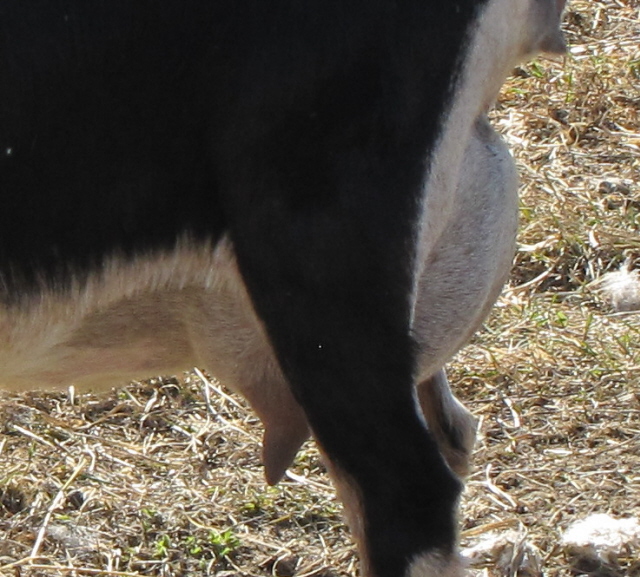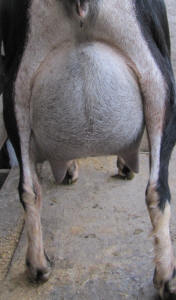 Rosebud's Summer 2010 V-Show pictures: